Apollo 55000-018APO AlarmSense Series Open-Area Sounder Indoor Use 99dB A, Red
Brand:
Apollo Fire
ADI #:55000-018
Model #: 55000-018APO
Name: Apollo 55000-018APO AlarmSense Series Open-Area Sounder Indoor Use 99dB A, Red
Flexible
Reliable
Cost-effective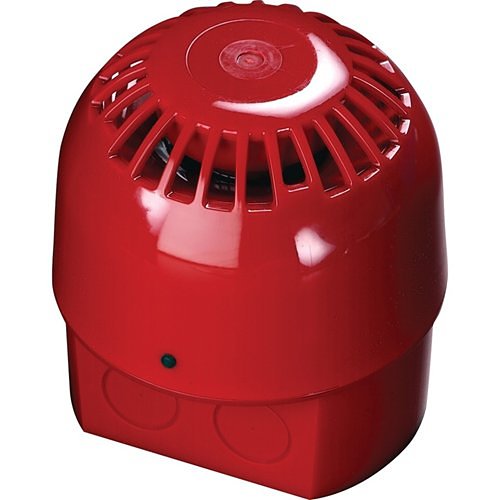 Product Overview
General Information
Brand Information
AlarmSense is a range of conventional fire detection and alarm products designed to be connected to the same pair of supply wires, making installation quicker and less expensive. AlarmSense has been developed to make the design and installation of a fire detection and alarm system easier and more economic for small to medium-sized buildings. The range also allows an existing system to be extended or modified if necessary. This flexibility makes AlarmSense an excellent choice for use in HMOs (House in Multiple Occupation). As you would expect from Apollo, AlarmSense incorporates features that help reduce false alarms and patented technology to ensure the integrity of a system. The range also includes products, such as beacons, to help meet the requirements of the Disability Discrimination Act (DDA).
Brand Features
flexible

reliable

cost-effective

compliant with BS 5839

easy to install

easy to extend
Operation
AlarmSense sounders and manual call points are fitted to the same zone as detectors. In quiescent state, the zone is powered at between 9V and 15V, nominally 12V, at which only detectors and call points operate.

Sounders require 24V to operate. When an alarm is detected on a zone, the control panel increases the line voltage to 24V on that zone causing the sounders to produce a continuous 'Evacuate' sound. Any voltage-sensitive output devices - relay modules or other alarm devices - also operate. When the voltage is increased to 24V, the detector alarm current will reduce to 1.5mA. The detectors are latched in alarm until they are reset by reducing the voltage to less than 2V for greater than 1 second. Output devices will de-activate each time the voltage is reduced to 12V unless otherwise stated in their specification.

It is possible to generate an 'Alert' tone by pulsing the supply voltage from 12V to 24V and the sounders configured to continuous output. Pulse frequency of 1 second on, 1 second off, is recommended for compliance with BS5839 Pt1.
Product Information
The AlarmSense Open-Area Sounder is designed for use in open-areas.
Main Features
Flexible
Reliable
Cost-effective
Category : Fire, Fire Notification Appliances, Sounders, Products
Specifications
General Information
Product Name
Alarmsense Open-Area Sounder
Technical Information
Camera
Physical Characteristics
Power Description
Warranty