Fermax 3307 Intercom Answering Unit with 3.5" Monitor
Brand:
Fermax
ADI #:3307
Model #: 3307
Name: Fermax 3307 Intercom Answering Unit with 3.5" Monitor
2 pushbuttons for screen captures management
Flat screen 3.5 TFT and resolution of 480 (H) x 234 (V) lines
Door release and guard unit call button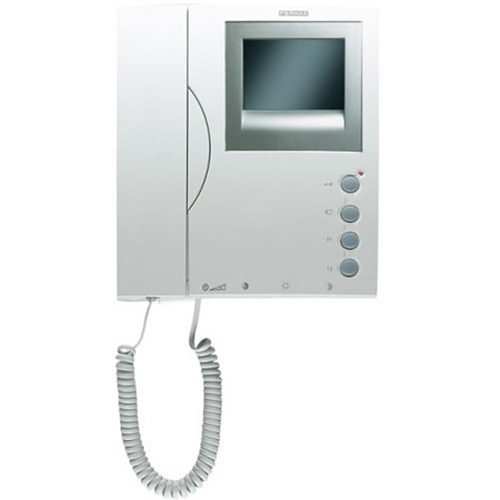 Product Overview
General Information
Video door entry COLOUR monitor. TFT screen 3.5".
Installed in homes, lets you communicate with the outside panel, open the door and see the visitor on the built-in screen .
A new concept in home monitors. Integrated design, in line with new trends and lifestyles, simple and functional, combining quality and design. The harmony of the gentle, relaxed shapes and the integrated volume concept are the synthesis of LOFT technology and design.
Its purity of line, technology and performance make this equipment an elegant and perfect element for any home.
Made in high impact ABS plastic, with a textured finish for easy cleaning and ultraviolet protection for greater resistance to sunlight.
Conventional System: uses wires common to the whole installation plus 1 call wire (or call return) per home..
Recommended in small to medium-sized buildings (up to 50 residents approx), with several accesses and central guard unit. For residential complexes with general entrance and interior blocks.
Wiring:
Audio door entry system: 4 common wires + N (1 call wire per home).
Video door entry system: 7 common wires + 1 video coaxial+N (1 call wire per home).
Main Features
2 pushbuttons for screen captures management
Flat screen 3.5 TFT and resolution of 480 (H) x 234 (V) lines
Door release and guard unit call button
Auto-on button for main camera activation
Call volume, On/off, brightness and contrast control.
With 2 pushbuttons for additional functions (without functions assigned)
Category : Intercom Door Stations, Products, Communications, Intercoms & Telephone Entry
Specifications
General Information
Product Name
Loft Monitor Color 4+N 3.5
Technical Information
Display & Graphics
Physical Characteristics
Power Description
Product Information