Sonos Sub Gen 3 Wireless Wi-Fi Subwoofer, White (SUBG3UK1)
Brand:
SONOS
ADI #:SUBG3UK1
Model #: SUBG3UK1
Name: Sonos Sub Gen 3 Wireless Wi-Fi Subwoofer, White (SUBG3UK1)
Sub (Gen 3) brings the same iconic design and bold bass with updated internals including increased memory, processing power, and a new wireless radio.
Two force-cancelling drivers at the centre of Sub face inwards to eliminate vibration and rattle, ensuring all you hear is pure bass.
Trueplay puts the speaker-tuning capability of recording pros in the palm of your hands and optimises the sound for your room.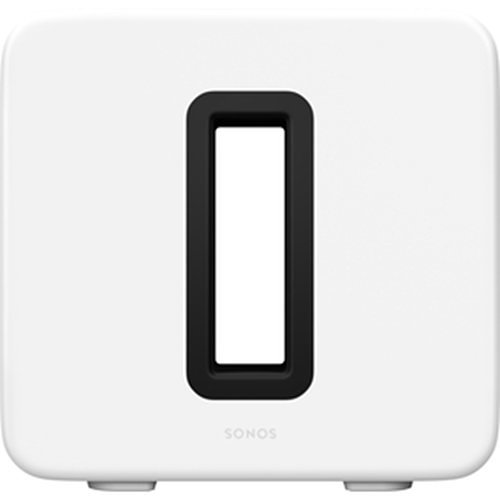 Product Overview
General Information
The wireless subwoofer for deep bass. Hear and feel the difference when you connect Sub to your Sonos system. No buzz, just bass Two force-canceling drivers at the center of Sub eliminate vibration and rattle so you get powerful bass without any distortion.
The award-winning and versatile design features a sculptural shape and high-gloss finish. Stand Sub upright or lay it on its side. Lower lows and higher highs Sub takes over the lowest frequencies, enhancing the midrange playback from paired speakers so you experience fuller, more detailed sound. Create a more immersive experience for music, home cinema, and more.
Main Features
Sub (Gen 3) brings the same iconic design and bold bass with updated internals including increased memory, processing power, and a new wireless radio.
Two force-cancelling drivers at the centre of Sub face inwards to eliminate vibration and rattle, ensuring all you hear is pure bass.
Trueplay puts the speaker-tuning capability of recording pros in the palm of your hands and optimises the sound for your room.
For Use in Sonos Ecosystems
Wired and Wireless Connectivity
2x Force-Canceling Drivers
Vertical or Horizontal Placement Options
Trueplay Tuning Technology
Category : Products, Pro AV, Commercial Audio, Pro Speakers
Specifications
General Information
Technical Information
Audio
Interfaces/Ports
Physical Characteristics
Form Factor
Desktop, Portable, Tabletop
Power Description
TBD
Warranty
Miscellaneous
Package Contents
Sub Subwoofer System
Power Cable
QuickStart Guide
Legal & Warranty Information