Bosch LBC3432/03 Sound Projector, 20W, Unidirectional, Outdoor, White
Brand:
Bosch
ADI #:LBC3432/03
Model #: F.01U.269.035
Name: Bosch LBC3432/03 Sound Projector, 20W, Unidirectional, Outdoor, White
Provision for supervision board mounting
(Suspended) ceiling and/or wall mounting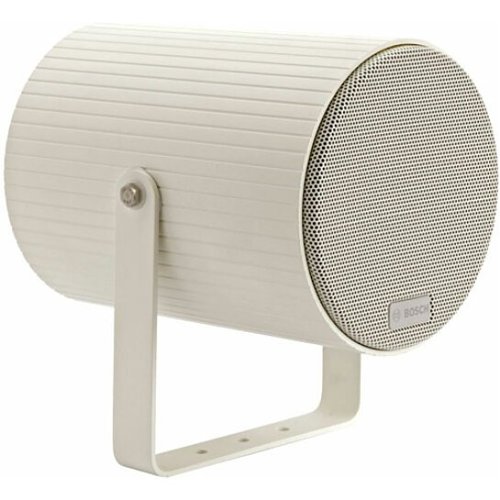 Product Overview
General Information
The LBC 3432/03 is a powerful 20 W sound projector intended for speech and music reproduction in indoor and outdoor applications. The sturdy, aluminum enclosure is finished in the color white. It has provisions for cable loop through connection and inside mounting of a line- or loudspeaker- supervision board. The sound projector is suitable for use in voice alarm systems.

Functions

Voice alarm loudspeakers are specifically designed for use in buildings where performance of systems for verbal communication announcements is governed by regulations. The LBC 3432/03 is designed for use in voice alarm systems and is compliant with British Standard BS 5839-8 and EN 60849.
The sound projector has provision inside for mounting an optional line/loudspeaker supervision board. The loudspeaker has built-in protection to secure that, in the event of a fire; damage to the loudspeaker does not result in failure of the circuit to which it is connected. In this way, system integrity is maintained; ensuring loudspeakers in other areas can still be used to inform people of the situation. The loudspeaker has a ceramic terminal block, thermal fuse and heat resistant, high-temperature wiring. The sound projector is constructed from extruded aluminum and finished in white. The front-grill, rear cover and bracket are made from aluminum to increase corrosion resistance.

Certifications and approvals

Quality assurance
All Bosch loudspeakers are designed to withstand operating at their rated power for 100 hours in accordance with IEC 268-5 Power Handling Capacity (PHC) standards. Bosch has also developed the Simulated Acoustical Feedback Exposure (SAFE) test to demonstrate that they can withstand two times their rated power for short durations. This ensures improved reliability under extreme conditions, leading to higher customer satisfaction, longer operating life, and lessons the chance of failure or performance deterioration.
Main Features
Provision for supervision board mounting
(Suspended) ceiling and/or wall mounting
Category : Pro Speakers, Products, Pro AV, Commercial Audio
Specifications
General Information
Product Name
LBC 3432/03 Unidirectional Sound Projector
Technical Information
Maximum Frequency Response (Hz)
Minimum Frequency Response (Hz)
Audio
Maximum Frequency Response
Minimum Frequency Response
Physical Characteristics
Form Factor
Ceiling Mountable, Wall Mountable
Product Information
TBD