Veracity VOR-ORL-G Outreach Lite G Gigabit Ethernet Extender
Brand:
Veracity
ADI #:VOR-ORL-G
Model #: VOR-ORL-G
Name: Veracity VOR-ORL-G Outreach Lite G Gigabit Ethernet Extender
Instantly doubles gigabit network range to 200 metres
No local power required
Full unrestricted gigabit network bandwidth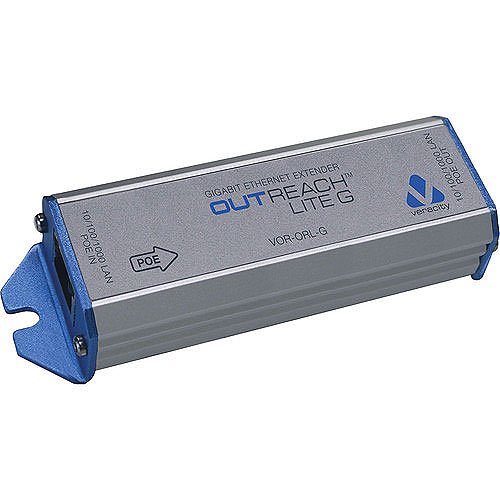 Product Overview
General Information
Gigabit Ethernet is commonly used for Local Area Network (LAN) installations, although 100Base-TX is often used for single IP camera connections. As IP devices become more diverse, many applications demand network connections that exceed the maximum 100 metres (328 feet) distance limit for cabled Ethernet.

OUTREACH Lite G provides an instant solution to this restriction for gigabit Ethernet connections (a 100Base-TX only version of OUTREACH Lite is also available - see table on next page).

Simply connect an OUTREACH Lite G in the middle of a network cable run to double the available range to 200 metres (656 feet).

Simple installation
OUTREACH Lite G takes advantage of the universal 802.3af/at/bt POE standards, so it can draw its own power from the network connection. No local power is required, therefore OUTREACH Lite G can be located exactly where it is needed.

If your network switch has POE, simply connect OUTREACH Lite G up to 100 metres from the switch, and it will deliver another 100 metres reach over regular Cat5e or similar cable (Diagram 1). If POE is not available, the link can easily be upgraded using a low-cost POE injector such as Veracity's gigabit compatible OUTSOURCE (Diagram 2).

No set-up or network configuration is required, as OUTREACH Lite G automatically sets up network speed, duplex and crossover on connection, and does not require an IP or MAC address.

Go further
If POE and network extension beyond 200 metres (656 feet) is required, Veracity's OUTREACH Max G may be installed to extend Ethernet and POE to OUTREACH Lite G For example, a 300 metre (984 feet) connection between a POE switch and another network device can be achieved by fitting an OUTREACH Max G at 100 metres along the cable, followed by 100m then an OUTREACH Lite G, and up to 100m to the gigabit network device.

For longer Ethernet runs, Veracity recommends LONGSPAN long distance point-to-point devices, which can achieve 100Base-TX connections with POE at up to 820m (2,690ft).

No restrictions
Because OUTREACH Max G and OUTREACH Lite G simply restore the network connection every 100 metres, the full bandwidth of gigabit Ethernet is maintained across the entire link. This maximises performance and transparency, with no risk of a reduced or unpredictable bandwidth, even at distances of several hundred metres or more.
Main Features
Instantly doubles gigabit network range to 200 metres
No local power required
Full unrestricted gigabit network bandwidth
Category : PoE Devices, PoE Extenders, Products, Data Comm & Networking
Specifications
General Information
Product Name
Gigabit Ethernet Extender
Technical Information
Maximum Extended Range (mm)
Interfaces/Ports
Physical Characteristics
Product Information