Ventcroft VNP-225ERH Cable Fire Enhanced 2.5mm Red 2c&Cpc100m
Brand:
Ventcroft
ADI #:VNP-225ERH
Model #: VNP-225ERH
Name: Ventcroft VNP-225ERH Cable Fire Enhanced 2.5mm Red 2c&Cpc100m
Offers convenient control over compatible equipment
Red
Flexible enough to offer a variety of options to suit a specific need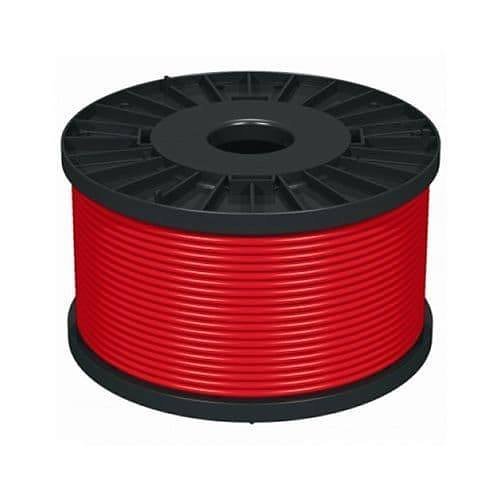 Product Overview
General Information
Enhanced level Fire Cable is now used for most schools, colleges, public buildings or large complex buildings where the very best protection is required. An 'Enhanced' Fire Cable is tested to provide a guaranteed 2 hour duration with the cable under Fire and Mechanical Shock conditions with Water applied for the final hour at a temperature of 930 degrees C. NoBurn Plus is BASEC & LPCB approved to meet the 'Enhanced' standard of BS 5839-1 2013 Clause 26.2e, BS 8434 - 2:2003 120 minutes and BS EN 50200 Class PH30, PH60 & PH120. Now also BASEC approved to BS 8519 Category 2.
NoBurn Plus's design adds simple but effective strength and makes NoBurn Plus fire cable the fastest enhanced cable to install and prepare for installation. The outer sheath and foil are adhered so together are removed at the same time, no time consuming multiple sheaths, foils, wraps or mica tapes to remove.
More flexible than most enhanced fire cable, NoBurn Plus stays where you put it - simple and easy to dress and position in conduit or trunking. NoBurn Plus cores are manufactured with multiple twists to provide the highest level of data protection , ideal for long cable runs and analogue addressable fire systems. NoBurn Plus soft skin fire cable provides a cost effective quick to install alternative to MICC cables.
Also suitable for automatic lift doors, air conditioning and computer control where low smoke, fume and zero halogen cable is required.

Main Features
Offers convenient control over compatible equipment
Red
Flexible enough to offer a variety of options to suit a specific need
Automatic Lift Door device supported for your convenience and better usability
Category : Wire & Cable, Solid Shielded Cables, Fire Alarm Cables, Products
Specifications
General Information
Product Name
Plus Enhanced Fire Performance Cable
Technical Information
Lock
Miscellaneous
Features
Bendable, Fire Resistant, Flexible