Vestel 10122958 65" UHD Signage Displays
Brand:
Vestel
ADI #:UHM65UH82/4
Model #: 10122958
Name: Vestel 10122958 65" UHD Signage Displays
Resolution: 3840x2160 (UHD)
Brightness: 400 cd/m2
Operation: 16/7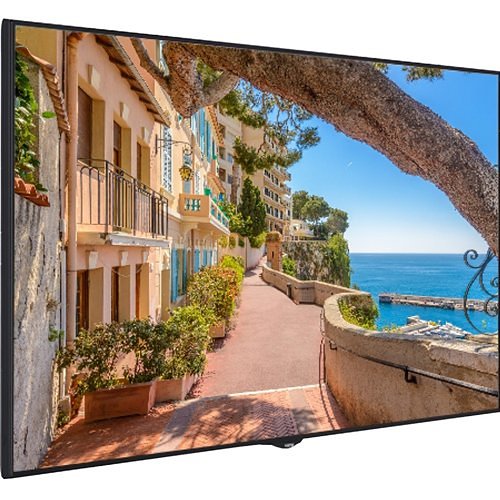 Product Overview
General Information
Display Control over RS232 and LAN
Our platform allows users to control their displays, using a large range of commands through either a Local Area Network or direct RS232 Serial connection.
Wireless Display
Using either Microsoft Wireless Display Adaptor or Android Screen Sharing functions on Windows and Android devices, you can mirror screen to the display using embedded wireless display capabilities without using any external devices or cables.
Menu Lock
The menu lock feature allows the displays menus to be locked after installation in order to prevent any changes or access whilst being used in a public area.
SoC
HTML-5 based applications can be developed to work directly within the SoC platform of our displays. The displays are capable of working in either online or offline mode.
Auto Launch
We have made it easy to give any HTML5-based application link to the display within the SoC software. Upon this, the display will start with the given link. The application can either be an offline or an online application, allowing the customers to execute their own application.
Embedded CMS
Embedded content management program which supports playback library, ready templates and scheduler. With its simple and intuitive menus and layout options, it is effective for small and medium enterprises to make easy content management.
HDR10 & 4K HDMI @60Hz
By HDR10 compatibility, customers can guarantee that all featured content meets HDR guidelines and reaches superior picture quality as clearly and brightly as possible. Different than many products in the market, 4K content over HDMI source is supported at 60Hz.
DAP (Dolby Audio Processing) Technology
Our displays provide a comprehensive sound performance by using Dolby's latest technology DAP. With embedded DAP Technology, superior sound performance achieves by intelligent audio equalizing, dialog enhancements and surround sound upmixing.
Scheduler
Digital Signage Monitor Software allows many important features such as Scheduler. Scheduler sets your display turn on/off time easily and lets you not to worry about the status of your displays in any time.
Pixel Shifting
Pixel Shifting is designed to be activated inside the SoC in order to prevent for potential risk of image sticking, caused by constant content. With this feature turned on, pixels on the screen will move in an interval while causing no interference of visual experience.
Source Switching
It is made available to set any Source on startup of the display. It can also be switched on any other signal source using scheduler and failover scenarios. This lets the users to freely control the process of their requirements allowing best user experience.
HDMI Wake Up
To maximize the user experience while using external video devices such as mediaplayers, display controllers or PCs, all our devices have HDMI Wakeup feature ready to turn on/off the display by simply pluging/unplugging the HDMI cable.
Main Features
Resolution: 3840x2160 (UHD)
Brightness: 400 cd/m2
Operation: 16/7
Bezel: 16-39 mm (T/R/L), 21-39 mm (B)
Interface: HDMI 2.0 / VGA / USB / RS232 /RJ45 / RJ12 / IR / HP / Audio / Speaker
Application Area: Retail, Restaurants QSR
Category : Products, Pro AV, Commercial Displays, Digital Signage Displays
Specifications
General Information
Technical Information
Bezel Width (Bottom) (mm)
Display & Graphics
Interfaces/Ports
Network & Communication
Physical Characteristics
Power Description
Product Information
Video
Miscellaneous
Package Contents
65" UHD Signage Displays
QSG
IB
Power Cord
Remote Control
RC Battery
Mounting Kit
Extension Brackets
IR Extender Cable