Bosch NDE-3502-F02 3000i FlexiDome Series 2MP 130° Mini Dome Camera, 2.3mm Fixed Lens, White
Brand:
Bosch
ADI #:NDE-3502-F02
Model #: F.01U.410.396
Name: Bosch NDE-3502-F02 3000i FlexiDome Series 2MP 130° Mini Dome Camera, 2.3mm Fixed Lens, White
Built-in Essential Video Analytics to trigger relevant alerts and quickly retrieve data
Fully configurable H.265 multi-streaming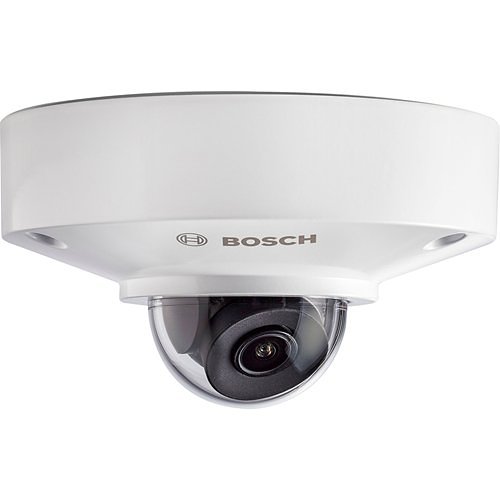 Product Overview
General Information
The FLEXIDOME IP micro 3000i is a high-quality surveillance camera designed to deliver reliable performance 24/7. It offers a range of advanced features for enhanced surveillance capabilities, including Essential Video Analytics. The camera is also designed for easy installation, thanks to its compact and minimalist design that provides flexibility in mounting options. The Essential Video Analytics feature strengthens the concept of Intelligence at the Edge, providing powerful video analysis capabilities. It is particularly useful in controlled environments with limited detection ranges. The system can reliably detect, track, and analyze objects, triggering alarms when predefined criteria are met. With a smart set of alarm rules, complex tasks are made easier, and false alarms are reduced. Metadata is attached to the video, enabling quick retrieval of relevant images from hours of stored video. This metadata can also be utilized to provide irrefutable forensic evidence or optimize business processes, such as people counting or crowd density information. The camera incorporates a high dynamic range mode, which utilizes a multiple-exposure process to capture more details in both highlights and shadows within the same scene. This allows for improved object and feature recognition, even in challenging lighting conditions, such as bright backlight.
Main Features
Built-in Essential Video Analytics to trigger relevant alerts and quickly retrieve data
Fully configurable H.265 multi-streaming
Category : Products, Dome Cameras, Video Surveillance, IP Cameras
Specifications
General Information
Product Name
NDE-3502-F02 Fixed micro dome 2MP HDR 130° IP66 IK10
Technical Information
Effective Camera Resolution
Field of View
2.3 mm: 132° x 77° (H x V)
Camera
Category Specific Attributes
Maximum Focal Length (mm)
Display & Graphics
Effective Camera Resolution (Pixel)
Environmental Conditions
Maximum Operating Temperature
Maximum Operating Temperature (°F)
Minimum Operating Temperature
Minimum Operating Temperature (°F)
Exposure
Interfaces/Ports
Lens
Network & Communication
Physical Characteristics
Durability
Dust Resistant, Impact Resistant, Water Resistant
Power Description
Product Information
Storage
Video
Analog Video Signal Format
Miscellaneous
Features
Automatic Defog, Back Light Compensation (BLC), Cross Line Detection, Day/Night, HTTPS Encryption, Motion Detection, Noise Reduction, Privacy Masking, Region of Interest, SD Card Local Storage, Tamper Detection
Ingress Protection Rating