Honeywell MPA2C1 MPA2 Series, All-in Smart Access Control Panel only
Brand:
Honeywell Commercial Security
ADI #:MPA2C1
Model #: MPA2C1
Name: Honeywell MPA2C1 MPA2 Series, All-in Smart Access Control Panel only
New, faster, and more intuitive user interface decreases time spent on deployment and training
Embedded browser features basic access control that is simple and easy to use. Add MAXPRO Cloud or WIN-PAK for more advanced features, such as video and intrusion integrations, advanced reporting, rules and photo badging
New, faster Hardware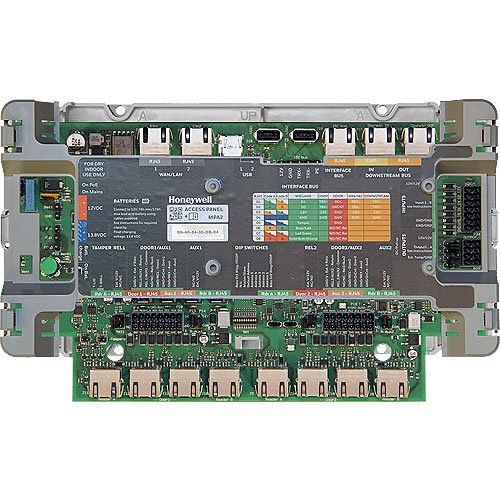 Product Overview
General Information
Honeywell's web-based MPA2 controller provides solutions for installations of any size. MPA2 enables users to securely manage their system anywhere there's an Ethernet/Internet connection—with no dedicated PC or software costs. The user-friendly design (Push-in connectors and RJ45 'Click 'n Done' approach) makes it simple to install and easy to operate and maintain. MPA2 gives you all the benefits of traditional access control, such as helping you secure doors, manage employee access, and manage sites remotely. It also lets you pull reports easily to meet compliance requirements. With a browser-based interface, your learning curve and training times are significantly decreased. No dedicated software is required—simply log on and you're ready to go, securely—from the office or anywhere. You can manage MPA2 using the embedded browser, MAXPRO Cloud's secure cloud infrastructure, or WIN-PAK's integrated security suite. MPA2 has been developed with an installer-friendly design that easily adapts to existing IT infrastructure and methods, reducing installation and support costs. So as your system grows, MPA2 grows with you.
Main Features
New, faster, and more intuitive user interface decreases time spent on deployment and training
Embedded browser features basic access control that is simple and easy to use. Add MAXPRO Cloud or WIN-PAK for more advanced features, such as video and intrusion integrations, advanced reporting, rules and photo badging
New, faster Hardware
128-bit AES encrypted bi-directional reader-panel communicating (OSDP:V2) protocol
IP-based hardware with Power over Ethernet (PoE) PLUS capability eliminates additional network module wiring and simplifies powering the panel
At-the-door mounting decreases cable runs
Metal enclosure with included 3.5-Amp power supply and battery backup available for traditional installs or retrofits
RJ45 connection for Ethernet, Interfaces, Readers and Doors
Push-in Connectors (Screw driver less installation)
256-bit AES encrypted communication between panel and hosts (browser, cloud, and WIN-PAK)
Category : Products, Access Controllers, Controllers, Access Control
Specifications
General Information
Manufacturer
Honeywell International, Inc
Product Name
MPA2 Access Control Panel
Product Type
Door Access Control Panel
Technical Information
Interfaces/Ports
Physical Characteristics
Power Description