Hikvision iDS-7716NXI-I4-X DeepinMind Series 4K 16-Channel 320Mbps 1.5U 4 SATA NVR
Brand:
Hikvision
ADI #:IDS-7716NXI-I4/X
Model #: IDS-7716NXI-I4/X(C)
Name: Hikvision iDS-7716NXI-I4-X DeepinMind Series 4K 16-Channel 320Mbps 1.5U 4 SATA NVR
H.265+/H.265/H.264+/H.264 video formats
Intelligent analytics based on deep learning algorithm
Up to 16-ch perimeter protection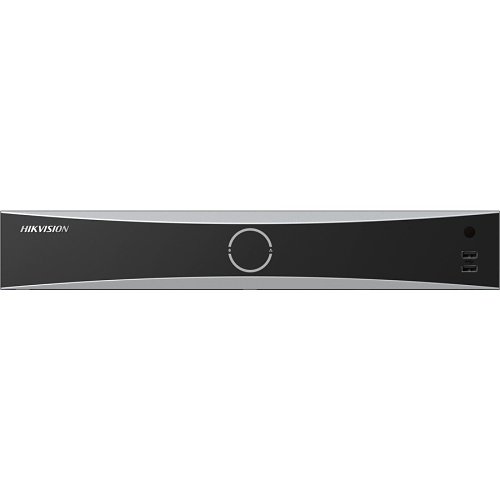 Product Overview
General Information
Professional and Reliability

H.265+ compression effectively reduces the storage space by up to 75%
Dual-stream recording saves bandwidth
Adopt stream over TLS encryption technology which provides more secure stream transmission service
Support double verification for playback and downloading
HD Video Output
Provide independent HDMI and VGA outputs
HDMI video output at up to 4K resolution
Storage and Playback
Up to 4 SATA interfaces for HDD connection
Up to 16-ch synchronous playback
Smart & POS Function
Support multiple VCA (Video Content Analytics) events
Configurable special camera smart functions, such as VCA detection (motion, line crossing, intrusion, etc.), heat map, ANPR (Automatic Number-Plate Recognition), and people counting
POS information overlay on live view and playback, and POS triggered recording and alarm
Network & Ethernet Access
2 self-adaptive 10/100/1000 Mbps Ethernet interfaces
Hik-Connect & DDNS (Dynamic Domain Name System) for easy network management
Smooth streaming technology
Support web access without plug-in
Typical ApplicationFacial Recognition and Face Picture Comparison
Modeling and analyzing face pictures captured by cameras. Realize list alarm and stranger alarm via face picture library. Search target people by picture and name features.
Perimeter Protection
Adopt deep learning algorithm to reduce false alarm, effectively reduces the false alarm caused by tree branches, leaves, shadow, light, vehicles, small animals, etc.
Video Structuralization
Extracting the face picture, human body and vehicle features from live videos, which is used for the tracking and retrieval of human and vehicles.
Main Features
H.265+/H.265/H.264+/H.264 video formats
Intelligent analytics based on deep learning algorithm
Up to 16-ch perimeter protection
Up to 8-ch facial recognition for video stream, or up to 16-ch facial recognition for face picture
Up to 8-ch video structuralization
Up to 32-ch IP cameras can be connected
Up to 16-ch 1080p decoding capability
Category : NVRs, Recording Devices, Products, Video Surveillance
Specifications
General Information
Product Name
iDS-7700NXI-I4/X DeepinMind Series NVR
Technical Information
Video Formats
H.264, H.264+, H.265, H.265+, MPEG-4
Camera
Interfaces/Ports
Total Number of Audio In Ports
Total Number of Audio Out Ports
Network & Communication
Physical Characteristics
Power Description
Storage
Video
Miscellaneous