Hall HSM-44-UHD 18Gbps 4x4 HDMI 2.0 Matrix Video Switcher
Brand:
Hall Technologies
ADI #:HSM-44-UHD
Model #: HSM-44-UHD
Name: Hall HSM-44-UHD 18Gbps 4x4 HDMI 2.0 Matrix Video Switcher
HDMI 2.0 version (Support [email protected] YUV4:4:4)
Bandwidth up to 18Gbps
HDCP2.2 input, HDCP2.2 output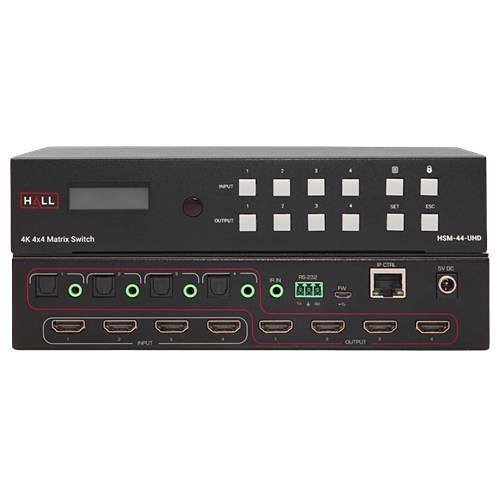 Product Overview
General Information
As a member of Genesis Digital Matrix series of switchers, the HSM-44-UHD matrix provides exceptional quality, intuitive operation and powerful control methods that are hallmarks of Hall Technologies video matrix switchers. The 4K matrix is a 4×4 cross-point switch in a compact 1-RU enclosure. The HSM-44-UHD supports HDMI resolutions up to 4K @ 60Hz4:4:4. It also supports HDCP 2.2 and 1.4, 3D, deep-color and PCM, Dolby, DTS, and HD audio standards. The matrix intelligently calculates EDID for each input based on the EDID of the connected sinks. Users can save and recall multiple matrix routing configuration PRESETs. HDMI outputs can also be blanked. The matrix includes a two-line character LCD on its front panel to display the current video routing and to facilitate creating or recalling presets. The HSM-44-UHD matrix is ideal for conference rooms, multimedia presentations, digital signage, houses of worship, and many other settings.
Main Features
HDMI 2.0 version (Support [email protected] YUV4:4:4)
Bandwidth up to 18Gbps
HDCP2.2 input, HDCP2.2 output
HDCP1.4 input, HDCP1.4 output
Support HDR10
4xHDMI input, 4xHDMI output
Category : Commercial Video Signal Distribution, Pro AV, Pro HDMI Switchers, Products