Ring Indoor Cam, Indoor HD IP Security Camera, Black (8SN1S9-BEU0)
Brand:
Ring
ADI #:8SN1S9-BEU0
Model #: B07Q4XK79L
Name: Ring Indoor Cam, Indoor HD IP Security Camera, Black (8SN1S9-BEU0)
For remote surveillance needs, this network camera is best suited
Watch live anywhere and anytime with night vision
Monitor the inside of your property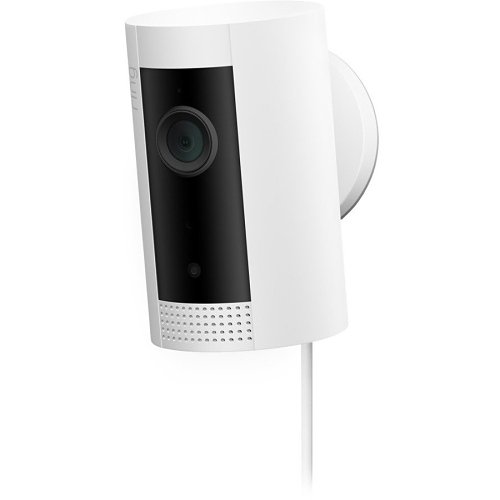 Product Overview
General Information
A compact camera that brings smart security inside, Indoor Cam is your solution to easily check what's happening at home. It's small enough to go almost anywhere, and its simple plug-in installation means you'll have peace of mind in no time. Place a few inside to cover your entire home, and save on security with a bundle.
Bring protection inside with the mini marvel that packs a powerful punch. The perfect combination of tiny and mighty, Indoor Cam comes with all the features to keep you connected to home - HD video, two-way talk and motion-activated notifications - in a compact form fit for the smallest of spaces.
Check to see what's happening at home from anywhere, at any time. Link your Indoor Cams together to control them all from a single dashboard. Put one in the living room to watch over your pets. Another in the hallway to see who comes and goes. Put one near the back door and always know who's moving between inside and out.
Main Features
For remote surveillance needs, this network camera is best suited
Watch live anywhere and anytime with night vision
Monitor the inside of your property
Up to 1920 x 1080 resolution for surveillance in real-time
Can be accessed from anywhere; this wireless security camera is easy to install
Category : Products, Smart Security Cameras, Smart Home
Specifications
Technical Information
Virtual Assistant Supported
Camera
Display & Graphics
Interfaces/Ports
Network & Communication
Physical Characteristics
Product Information
Mount Type
Ceiling Mount, Wall Mount
Storage
Warranty
Miscellaneous
Package Contents
Indoor Cam
Indoor Power Cable and Adapter
Screws and Wall Anchors
User Manual
Security Sticker