Paxton 375-120 Reader Multi Kp75 K/Pad + Terminals
Brand:
Paxton Access
ADI #:375-120
Model #: 375-120
Name: Paxton 375-120 Reader Multi Kp75 K/Pad + Terminals
Use with Switch2 or Net2
Keypad and proximity reader all in one
Range up to 100mm with proximity cards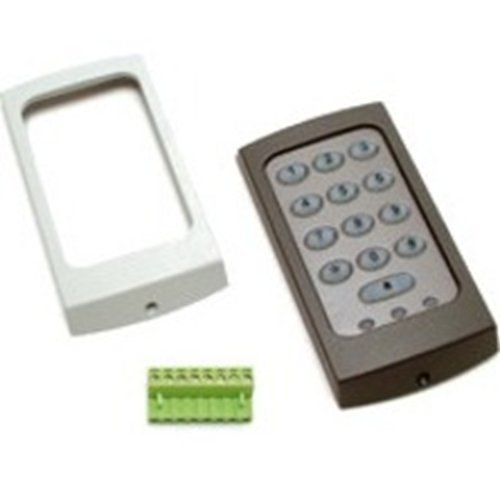 Product Overview
General Information
About – KP readers are a keypad and a proximity reader all in one. This allows card plus PIN (or code) access control with a single reader. KP readers are for use with Switch2 and Net2 systems. The K series readers are supplied with black bezels that can be fitted in the final stages of installation. Replacement bezels are available in black and white/grey, and are free of charge to Paxton registered installers from the Extranet. Installation – The reader is wired as shown on the control unit label. Be sure to avoid mounting on metal surfaces or near other proximity readers as this will affect the read range. The cable exits centrally from the back of the reader making drilling and mounting very accurate. Operation – A token is read by holding it within close proximity of the reader. Once a token has been read if the reader has been configured for code/PIN this must then be entered using the keypad. The control unit verifies the information and grants or denies access as appropriate. If access is granted the green LED flashes. If access is denied the red LED flashes.
Main Features
Use with Switch2 or Net2
Keypad and proximity reader all in one
Range up to 100mm with proximity cards
Easy mounting
Black or white bezels
Low profile - less than 16mm deep
Category : Access Control, Products, Proximity Readers, Keypads & Readers, Access Control Keypads
Specifications
General Information
Product Name
Proximity Keypad - Kp75, Screw Connector
Product Type
Card Reader Access Device
Technical Information
Interfaces/Ports
Network & Communication
Physical Characteristics
Power Description
TBD
Warranty
Miscellaneous
Environmental Certification