Paxton 337-620 Entry Touch Panel, Surface Mount Door Entry System, for Standalone, Net2 or Paxton10
Brand:
Paxton Access
ADI #:337-620
Model #: 337-620
Name: Paxton 337-620 Entry Touch Panel, Surface Mount Door Entry System, for Standalone, Net2 or Paxton10
Capacitive 7-inch colour touch screen
Pan/tilt camera functionality
Reads EM, Paxton & MIFARE® token technology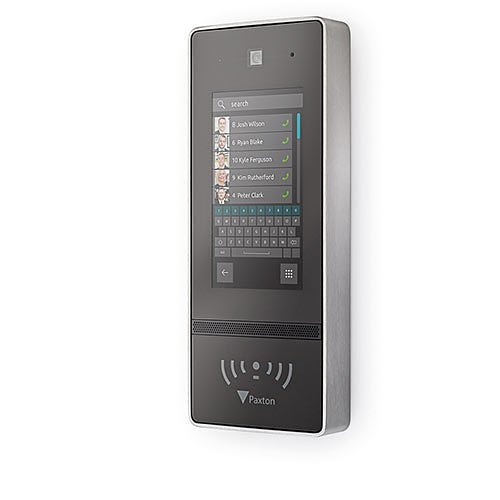 Product Overview
General Information
About – Entry is a door entry system that works standalone or alongside Paxton's Net2 access control or Paxton10, access control and video management, combining door entry with key features of our access control software. The Entry touch panel is a premium external panel for use with Paxton's door entry system, Entry. Comprising a quality 7-inch colour touch screen with personalisation options, the touch panel has a line-out for use with T-Loop antenna for users with hearing aids and advanced sound processing, for high traffic areas making it suitable for even more sites than ever before. When used with the Entry Premium monitor the touch panel supports two-way video calling and the facility to leave video voicemails. All Entry panels are IPX5 rated, making them suitable for external use in all weather conditions. Installation – Entry components simply interconnect using Cat5 or standard RJ45 terminated patch cables. Entry can also utilise existing network infrastructure for simple installation. PoE technology runs power and data along the same cable to avoid the need for separate power supplies. The surface mount version of this panel enables installation of the unit directly on the surface of the wall so that it is protruding and 100% exposed. For multiple panel entrances, more than one panel can be associated with an ACU. A secondary IP camera can also be installed and integrated with the Entry system to allow extra security in areas of restricted visibility. This provides flexibility with the option to switch between the two cameras on the Entry Monitor. Operation – A visitor initiates a video call via the touch screen on the external panel. Visitor access can be granted via the Entry monitor. The internal monitor can be used via either the handset for private calls or in hands free mode. When connected to Net2 or Paxton10, access to the building can be gained by using a PIN, Code and/or proximity token (including MIFARE® and Paxton tokens). Paxton10 also offers free Bluetooth Smart Credentials for use with Entry panels. Entry v2.22 is required.
Main Features
Capacitive 7-inch colour touch screen
Pan/tilt camera functionality
Reads EM, Paxton & MIFARE® token technology
Two-way video with premium monitor
Built-in keypad & RFID reader
IPX5 rated for external use in all conditions
Category : Intercoms & Telephone Entry, Communications, Intercom Door Stations, Products, Telephone Entry Systems
Specifications
General Information
Product Name
Net2 Entry Video Door Phone Sub Station
Product Type
Video Door Phone Sub Station
Technical Information
Maximum Wiring Distance (mm)
Display & Graphics
Physical Characteristics
Durability
Impact Resistant, Moisture Resistant
Product Information
Miscellaneous
Certifications & Standards
IPv6
IK7
IPX5
IEEE 802.3af