Trimec 218000-000 Glass Door Kit, Surface Mount for 118001-010
Brand:
Trimec
ADI #:218000-000
Model #: 218000-000
Name: Trimec 218000-000 Glass Door Kit, Surface Mount for 118001-010
Self adhesive holding force 900kg
Includes dress plate for opposite side of door
Frameless glass doors with Solid header frame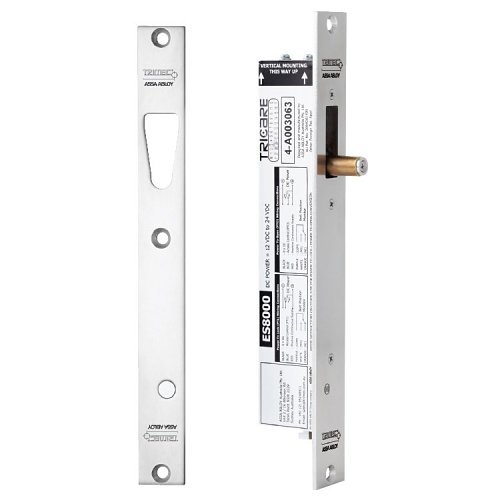 Product Overview
General Information
The ES8000 glass door bracket is the ideal solution when it comes to 180° swing through doors or double action glass doors. Until now we had to rely on other products for these applications. This bracket works in conjunction with the ES8000, and is not limited to glass thickness. As we know there are many factors that cause side load/pressure, the ES8000 resolves this problem and still offer a secure and reliable locking solution that is aesthetically appealing for glass doors.
The ES8000 Glass door bracket is fixed to the glass by means of 3M self adhesive tape. This type of fixing gives a great aesthetic appearance as well as easy installation.
Note: Two brackets are required if there is a glass header, also it's important to note that the bracket/s should always be installed at the secure side of the door.
NOTES ON THE 3M SELF ADHESIVE TAPE
As per the 3M published data and given the surface area of the V-Lock glass door housing (around 20 sqin), this equates to around 900kg holding force under laboratory conditions. The actual shatter point of glass varies from door to door depending on the condition of the glass, (scratches, chips etc). But any attempt to leverage a glass door beyond 500kg will more than likely shatter it.
Main Features
Self adhesive holding force 900kg
Includes dress plate for opposite side of door
Frameless glass doors with Solid header frame
Category : Magnetic Lock Parts, Access Control, Products, Locking Devices
Specifications
General Information
Product Name
ES8000 Glass Door Bracket
Physical Characteristics
Miscellaneous
Package Contents
ES8000 Glass Door Bracket
Dress Plate
3M Fixing Tape