Paxton 010-052 Paxton10 Door Controller PoE Networkable 1 door
Brand:
Paxton Access
ADI #:010-052
Model #: 010-052
Name: Paxton 010-052 Paxton10 Door Controller PoE Networkable 1 door
Controls a single door and provides additional I/O for general use
Distributed intelligence architecture, no central point of failure
Connector port to cascade up to three Paxton10 connectors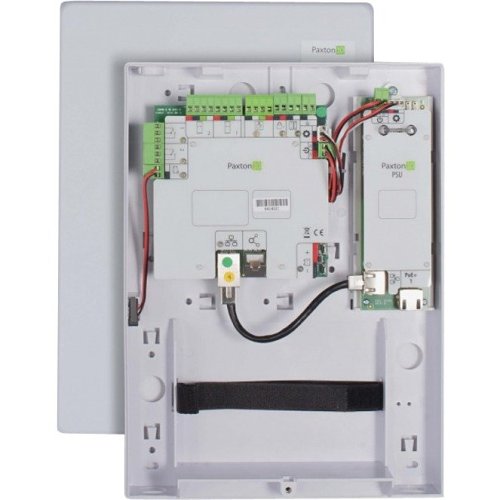 Product Overview
General Information
About Paxton10 Door Controllers are the building blocks of the Paxton10 system. Each one provides control of a single door and a port to allow support for up to three Paxton10 Wireless Connectors for additional functionality. A single Paxton10 system can include up to 1000 door controllers. The Paxton10 door controller is a network device that communicates over TCP/IP and can be integrated into an existing network infrastructure. PoE+ – The Paxton10 PoE+ Door Controller is equipped with a built-in PoE+ splitter, with which it is possible to supply the door controller and door lock via PoE+, so no 230v connection is required at the door. We recommend using a TCP/IP network switch with PoE+ output. It is also possible to place a backup battery in the Paxton10 PoE+ Door Controller, if you want an extra backup in case of power failure, we recommend placing the switch behind a UPS. The door controller is equipped with 4 inputs, tamper, 230v fail, door contact, and RTE. An intruder alarm can be integrated using the Paxton10 alarm connector Mains-powered and PCB-only (with or without plastic enclosure) options are also available. Installation – The wiring label on the Paxton10 Door Controller clearly shows colour-coded connections for the readers, power supply, lock, etc. The 12v output for the lock can be used to control any door, barrier or gate. Diagnostic LEDs indicate the status of the controller and its inputs and outputs. Controllers are connected directly to the network via TCP/IP. They are automatically visible in the Paxton10 software under the devices menu. Operation – Any changes made in the Paxton10 software are immediately communicated to the door controller. When a user presents their token to the reader, the control unit identifies them and permits or denies access as appropriate.
Main Features
Controls a single door and provides additional I/O for general use
Distributed intelligence architecture, no central point of failure
Connector port to cascade up to three Paxton10 connectors
12V lead acid battery back up
Category : Access Controllers, Access Control, Controllers, Products
Specifications
General Information
Product Name
Paxton10 Door Controller - PoE
Product Type
Door Access Control Panel
Technical Information
Interfaces/Ports
Network & Communication
Physical Characteristics
Power Description
Warranty
Miscellaneous
Environmental Certification