Dahua NVR5216-16P-I 16-Channel 320Mbps 1U 2 SATA 16PoE NVR
Brand:
Dahua Technology
ADI #:NVR5216-16P-I
Model #: DHI-NVR5216-16P-I
Name: Dahua NVR5216-16P-I 16-Channel 320Mbps 1U 2 SATA 16PoE NVR
16 Ch IP video access
Smart H.265+/H.265/Smart H.264+/H.264/MJPEG
Up to 16 Ch perimeter protection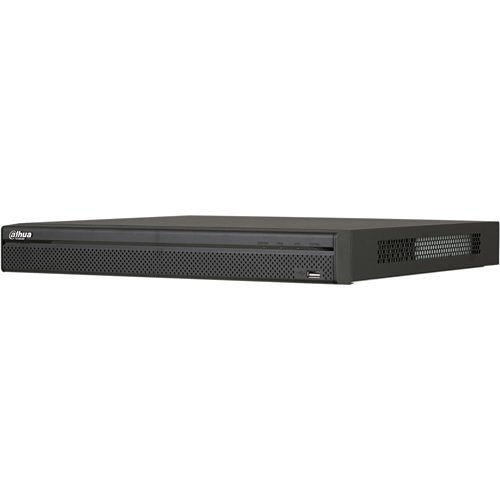 Product Overview
General Information
AI series products adopt the most advanced AI technologies, including deep learning algorithms that primarily target people and vehicles, which provides higher flexibility and accuracy for end-users. This enables the Dahua AI series to offer various advanced applications such as Face Recognition, ANPR, Metadata, People Counting, traffic data statistics, etc.

The complete lineup of Dahua AI includes network (PTZ) cameras, network video recorders, servers, and platform management products. Beyond seeing the world, the power of AI allows devices to perceive the environment and understand the world in a better way.

System Overview

Dahua new NVR5000-I network video recorder delivers excellent performance and high recording quality that is ideally suitable for IP video surveillance applications. This NVR adopts powerful processor, providing the capability of 4K resolution processing for applications where image details are highly required. Additionally, the NVR can be served as edge storage, central storage or backup storage with an intuitive shortcut operation menu for remote management and control.

With build-in deep learning module, NVR5000-I series products adopt video image structuring technology based on deep learning algorithms, achieving high-precision human face recognition and perimeter protection. By applying deep learning artificial intelligence, NVR5000-I allows users to focus on what matters most, improves event response time and helps make video actionable.

The NVR is compatible with numerous third-party devices, which make it the perfect solution for surveillance systems that work independently of video management system (VMS).

Functions

Perimeter Protection
Automatically filtering out false alarms caused by animals, rustling leaves, bright lights, etc. Enables system to act secondary recognition for the targets. Improving alarm accuracy.

Real Time Face Recognition
Video stream & picture stream real time face recognition. Facial attributes analysis features including gender, age, expression, glasses, moustache, mouth mask. Identify people and also capture, record faces with metadata. Facial feature filtering while real time display, only show faces with target features.

Face Database Management
Configurable multiple face databases. Powerful face database management. Face database can be applied to video channels independently. Name, gender, birthday, nationality, address, ID information can be added to each face picture.

Common/Stranger Mode
NVR5000-I supports common and stranger mode. In stranger mode, when NVR detects a strange face(not in device's face database), it can trigger alarm, buzzer, snapshot, record, etc. Similarity threshold can be set manually. This function is developed for important infrastructure sites for which access control is critical.

AI Search
Support seach by metadata of human and vehicles. Support uploading face pictures to NVR and compare them with recorded faces in NVR by similarity. Enable operators to quickly and easily search through multi channels and long duration, efficiently find out when and where a person of interest appeard

ANPR
Automatic Number Plate Recognition available for convenient entrance/ exit management. Support license plate recognition(working with Dahua ITC camera), black/white list import/export, add/delete B/W list number, search result from recorded video.
Main Features
16 Ch IP video access
Smart H.265+/H.265/Smart H.264+/H.264/MJPEG
Up to 16 Ch perimeter protection
Up to 4 Ch video stream face recognition
Up to 24 face pictures /sec processing
Up to 20 face databases with 100,000 face images in total
Category : Recording Devices, Products, NVRs, Video Surveillance
Specifications
General Information
Manufacturer
Zhejiang Dahua Technology Co., Ltd.
Product Name
16Channel 1U 16PoE AI Network Video Recorder
Technical Information
Video Formats
H.264, H.264+, H.265, H.265+, Motion JPEG
Camera
Interfaces/Ports
Total Number of Audio In Ports
Total Number of Audio Out Ports
Network & Communication
Physical Characteristics
Power Description
Storage
Video