Pyronix FPKX10DP Digi 10M PIR Detector, 24kg Pet Immunity
Brand:
Pyronix
ADI #:FPKX10DP
Model #: FPKX10DP
Name: Pyronix FPKX10DP Digi 10M PIR Detector, 24kg Pet Immunity
10m pet immune detection up to 24kg animal
Selectable EOL (End Of Line) resistors
Blue Wave Technology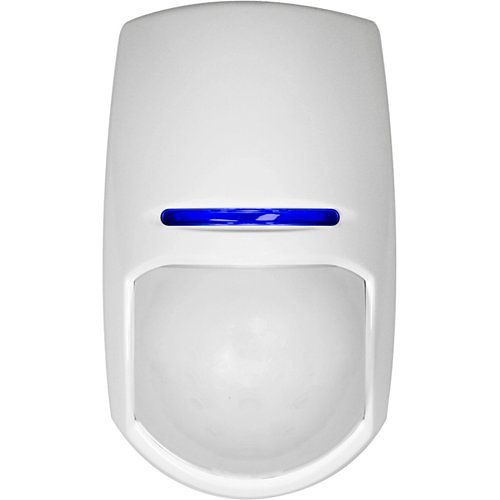 Product Overview
General Information
Keep your home protected even if you have pets. The KX10DP's intelligent Pet Immune technology differentiates between your pets and intruders with pet immunity for even larger pets (up to 24kg – approximately the size of a Labrador). The detectors intelligent PI (Pet Immune) technology analyses the difference between an intruder and a pet signal, with immunity up to 24kg and 10m coverage range. The detectors incorporates selectable alarm resistor values of 6K8, 5K6, 4K7 &1K & tamper values of 5K6, 4K7, 2K2 and 1K catering for most control panels on the market. Supplied with both wall & ceiling mount brackets which provides access for up to two 8 core cables (Tamper kit optional). Depending on the environment condition, the detector will automatically adjust the sensitivity. Protects from possible infestation from insects, shields air movement in front of the pyro-electric sensor and protects against adverse reflections from inside the detector housing.
Main Features
10m pet immune detection up to 24kg animal
Selectable EOL (End Of Line) resistors
Blue Wave Technology
Auto sensitivity feature
Digital temperature compensation
Tamper proof brackets included
Sealed optics
ABS plastics
Complies with EN50131-1
Category : Intrusion, Motion & Perimeter Sensors, Products, PIR Motion Sensors
Specifications
Technical Information
Maximum Motion Sensing Distance
Maximum Motion Sensing Distance (mm)
Passive Infrared Sensor (PIR)
Camera
Physical Characteristics
Application/Usage
Indoor, Kitchen, Living Room, Office
Power Description
Warranty
Miscellaneous
Package Contents
KX10DP Motion Sensor
Wall Mounted Bracket
Ceiling Mounted Bracket